---
Sorry but ad clicks keep the site going
---
Today the sun was out and the spring vibes were on, so I figured what better way to embrace the first proper day feeling like spring this year, than with a leg of lamb! I'm also breaking convention and using my own champagne gravy rather than using the standard red wine gravy. And trust me you'll wonder why you never tried it before. You may have a left over bottle of champers from Easter, even if it's flat it doesn't matter. Cava or Prosecco will work just as well if you've got either of those kicking around!
Great, so what ingredients do I need?
For the lamb
1 Leg of lamb shank per person
Fresh rosemary, (7-8 sprigs per shank)
Olive oil (a generous coating on each shank)
Garlic granules (3-4 shakes per shank)
Sea salt (a generous coating per shank)
For the veg
2 carrots per person
Cauliflower (several florets per person)
Broccoli (i'm using purple sprouting for added effect)
a mixture of olive oil and rapeseed oil, and a small knob of butter for roasting
For the gravy
1 cup of champagne per person (or Prosecco or Cava, doesn't matter if flat)
2 chicken stock cubes per person
1 teaspoon of honey per person
Cardamom pods (8-10 just for flavour)
Rosemary (a few sprigs just for flavour)
Dried mint (a generous few shakes)
1 tablespoon of flour
---
Sorry but ad clicks keep the site going
---
Great i've got all those what do I need to do?
We're going to start by placing the lamb on a baking tray, and jab various holes in it with a knife (the perfect opportunity to let your inner psycho out!). Next place a spring of rosemary in each of the holes, with will really let those flavours soak into the meat while it cooks.
Next up put the garlic granules and sea salt onto the meat and rub it in. Then put a really generous drizzling of olive oil on top as we want the outer to crisp up, lastly finish up with the ground peppercorns. We'll then place in the oven for 40-50 minutes at 180C.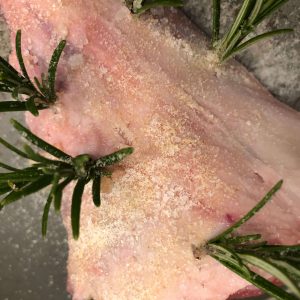 Next up cut up some carrots and cauliflower, i'm cutting the carrots chunky as it works best for roasting, peel the skins off with a vegetable peeler. Place in a baking tin, and get a good covering of rapeseed and olive oil and add a small knob of butter to the baking tin as well. Once the meat has been cooking for 10-15 minutes place the veg in for roasting. The cauliflower in particular tastes amazing roasted like this.
Once the veg has been cooking for 20 minutes place your broccoli in a saucepan of water and then boil at a medium-high heat. This shouldn't need boiling for longer than 10 minutes. This means it should be done at the same time as the lamb which is really handy for our gravy as we can reuse the saucepan and get those juices from the lamb. Pour the meat juices and scrape any left over bits into the saucepan.
Next up add the champagne, mint, cardamom pods, honey and 2 chicken stock cubes to the pan, and mix well. Then add a table spoon of flour to thicken.
And that's it you're ready to serve!
Yum