---
Sorry but ad clicks keep the site going
---
This is my first Georgian inspired recipe on the website and it's a good one, In Georgia Khachapuri the staple foods, just like Pizza is in Italy. And I mean what's not to love cheese, butter, bread and egg! I'll get right to it now because I know you're here to make it not learn the history of it!
What ingredients do I need?
The following ingredients are for 2 large sized Khachapuri:
For the dough:
3 cups of flour
1 tsp of salt
1 tsp of yeast
1 tbsp of sugar
1/2 cup milk
1 cup water
1 tbsp oil
For the filling:
1/2 cup of cheddar
1 cup of shredded mozzarella
1  cup of broken up feta cheese
2 table spoons of grated parmigiano reggiano
2 eggs + 1 for egg wash
1 small knob of butter
A few shakes of chilli flakes
A few shakes of ground parsley
---
Sorry but ad clicks keep the site going
---
I've got those ingredients what do I need to do now?
Firstly we need to make the dough, start by adding the flour, sugar, salt and yeast into a mixing bowl. Then warm up the milk and pour that onto it, then warm up the water and add that too. Mix with a spoon and then do a small amount of kneading. Add the oil and do a small amount of kneading again. Lightly drizzle a small amount of oil onto another bowl and then place the dough into that bowl. Cover the bowl with plastic wrap / clingfilm, and leave to rise for 1 hour.
After an hour remove the clingfilm press down into the dough several times, place the clingfilm back on and leave for another 15 minutes.
While we're waiting we can mix up out cheeses, break up the feta and mix that with the other 3 cheeses in a mixing bowl.
After the 15 minutes take the dough out, knead a small amount and cut into two equal size balls. Roll the first ball out into a roughly 10 inch diameter. Next roll up each side until they meet and you'll get a shape like below: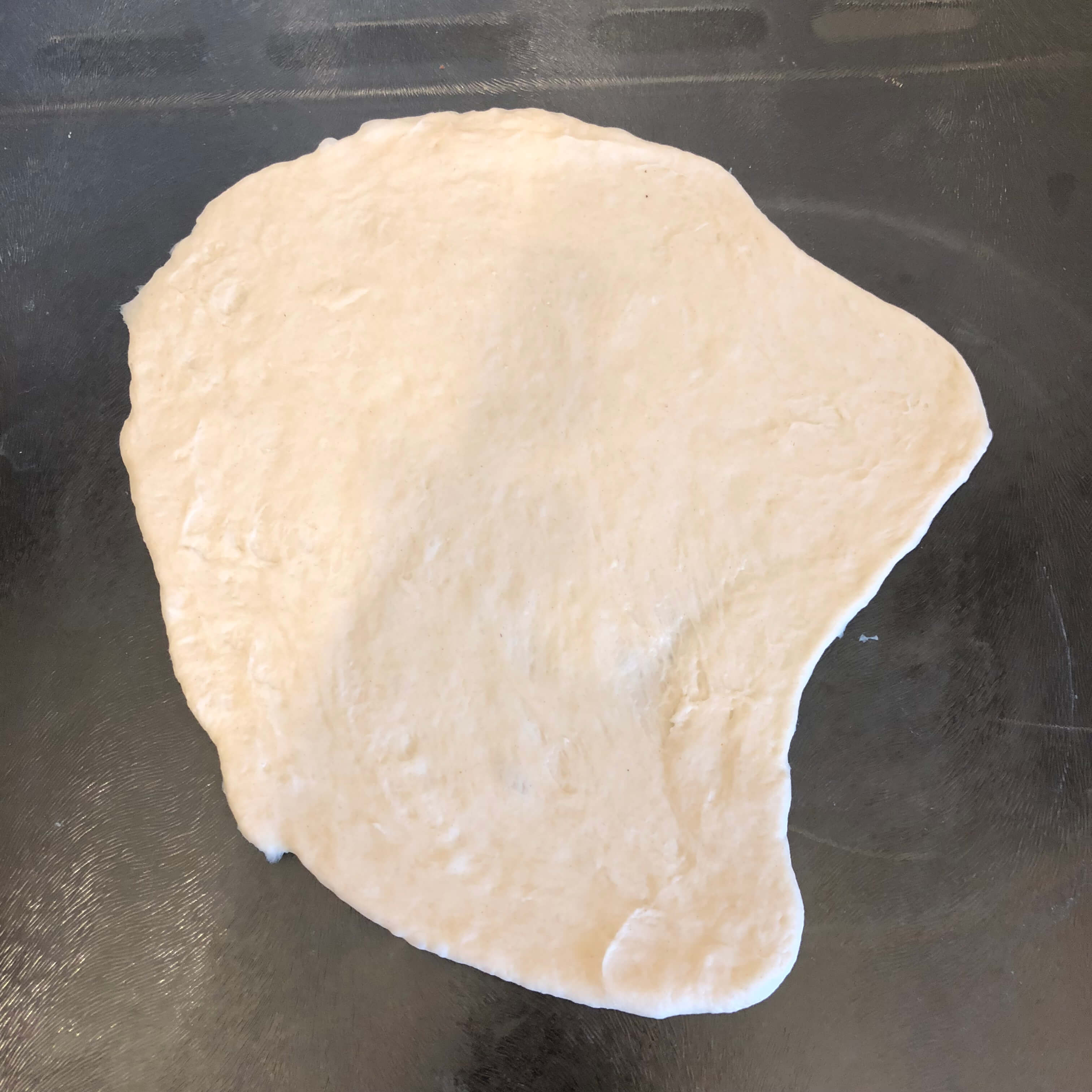 Do the same thing for the other one, then fill it with the mixed cheese we did awhile ago, then sprinkle a few chilli flakes on top.
Next beat an egg with one table spoon of water and egg wash the crusts on each khachapuri, then place in the oven at 250 degrees C for 15 minutes.
After 15 minutes take the khachapuri out of the oven, make a well in the cheese with a spoon and crack an egg into the well. Then place a small knob of butter into the cheese and place back in the oven for 5 minutes.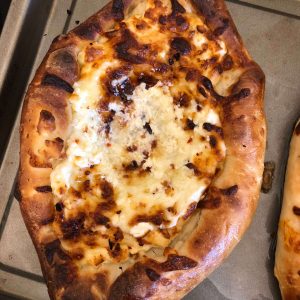 After 5 minutes  sprinkle some ground parsley on top and we're done, enjoy!
Yum