Firstly Boerewors are made with red meat, and they must contain at least a whopping 90% meat, and no more than 30% of that meat may contain fat! No other rubbish like you find in British sausages. The remaining 10% is usually filled with herbs and spices, also typically spices you don't find in British sausage, for example coriander.  So they taste nothing a like and the texture is a lot different, the colouring of the meat inside in different and it's much heavier. Sitting beside the boerewors is mieliepap also nothing like mashed potato except for having a slightly similar texture. Mieliepap is made from maze and can also be used a breakfast as it can be like porridge.
Before we start you will need a BBQ (so ideally a sunny day) and ingredients you will require are specialised and can't be bought in the supermarket, but thankfully we live in the age of the internet so you can get these to your doorstep in no time.
What ingredients do you need?
Boerewors (1 could serve two people but I like to eat a whole on to myself)
Mielepap (may also be known as braaipap)
Butter
Salt & pepper
Smoking woodchips and wood (while not technically not an ingredient you do taste it so I think it is).
Great i've got those ingredients, what do I need to do?
Firstly get that BBQ (Braai) lit up, you will need charcoal, thin pieces of wood, newspaper or other paper,
and sticks you find in the garden. We do not want to use firelighter as this will polute our smokey taste. Light the paper, which will then light the sticks, which will light the wood, and then the charcoal – and the charcoal will stay hot. If you're struggling with this also add a sheet of kitchen towel covered in cooking oil and wrap it around the charcoal, this will ensure that these burn.  Once it's lit and eventually the flames have died down put some smoking wood chips on the BBQ, this will increase the intensity of the smoke flavour.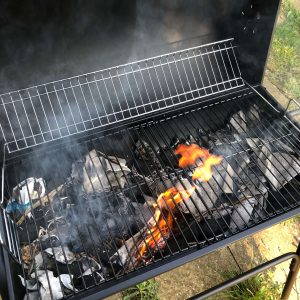 Now we're ready to put the meat on, by all means but other BBQ meat on here, it will add great flavour to any meats you put on here. Leave the Boerewors for around 3 minutes (depending now hot your BBQ is, you can lift periodically to make sure it's not burning, the key is for it to be browned). Once browned flip and repeat for the same amount of time, then do the same thing for both sides again.
Next up close the lid down and open the vents on your BBQ this will really help the meat smoke and will make sure the BBQ doesn't keep too hot.
While this does that head to your kitchen and we'll cook the mielepap, place mielepap, salt & pepper and 1 teaspoon of butter in a saucepan of water and heat at a medium-high heat. Periodically stir and it will be down once all the water is gone, once the pap has been cooking for amount a minute check back to your boerewors outside and flip if necessary. After a couple of minutes after that take your boerewors off the BBQ.
Plate the boerewors and also the pap once the water is gone, and that's it enjoy!
Yum

It's sunny! (if you're not from UK, that doesn't happen very often over here). And today i'm cooking an African dish, more specifically a South African dish. You may look at the picture and think that's bangers and mash (if you're not from the UK that's what brits called sausage and mashed potato) – and you'd be wrong.