---
Sorry but ad clicks keep the site going
---
Steak is one of the greatest dishes, and it's also an expensive meat so it's very important you cook it correctly, it's the difference between a melt in the mouth experience to chewing on a bit of old leather. In this post I will be cooking medium rare – so if this isn't to your taste cook it how you want but still check this out as my steak seasoning and herb butter is really good no matter how you like your steak!
What ingredients do I need
Steak (duh!)
Butter (make sure it's at room temperature)
Fresh rosemary
Fresh or dried thyme
Fresh or dried parsley
Fresh or dried marjoram
Chilli flakes
Whole peppercorns (i'm using mixed but just black is fine too)
Himalayan or coarse Sea Salt
Fennel
Ground ginger
Vegetable oil
Any thing you want to serve it with (i'm serving with sweet potato fries)
---
Sorry but ad clicks keep the site going
---
Great i've got all those items what do I need to do?
To start with lets make that herb butter, once your butter is at room temperature as is mouldable, cut up your fresh herbs into small pieces if you're using fresh then put your rosemary, thyme, parsley and marjoram onto the butter. Then wrap in clingfilm and mould until the herbs and butter are well mixed, then roll into an oblong shape and place in the freezer for 20 minutes.
Next let's get the seasoning rub ready, add your coarse salt, chilli flakes, ginger, fennel and pepper corns to a pestle and mortar. roughly a table spoon of each, being a bit more generous with the salt and peppercorns. And use just over half a teaspoon of ginger as you don't want to overpower. then grind that up until it looks like below:
Next up put a good covering of oil on a griddle and turn onto a high heat, you will want this to be left a couple of minutes before you even think about putting steak on it. In the mean time take your butter out the fridge and slice it.
After several minutes rub the home made steak seasoning rub into the steak on both sides, then add to the pan, you just hear a sizzle, if not your pan isn't hot enough! Leave it to cook for EXACTLY 1 minute and then flip and leave for EXACTLY 1 minute again for the perfect medium rare. Place the herb butter onto the steak and top that with some more homemade steak seasoning as soon as you flip to the second side to give that chance to melt. Once both sides are done lift with prongs or any utensil which would pierce the meat, and face each side down into the pan for a minute each to burn the fat on the edges.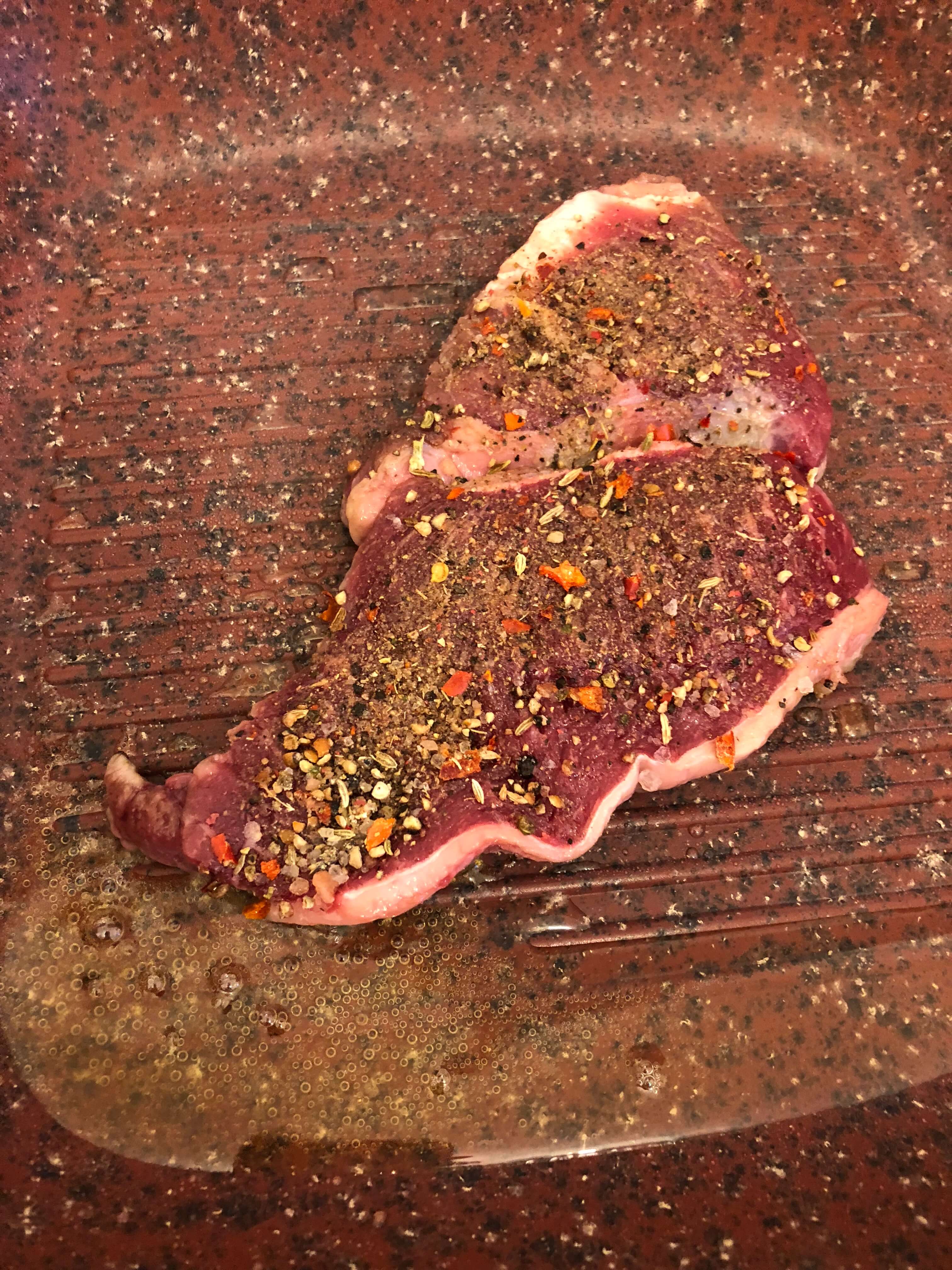 That's literally it! Serve with what ever you want and enjoy your perfect steak!
Yum